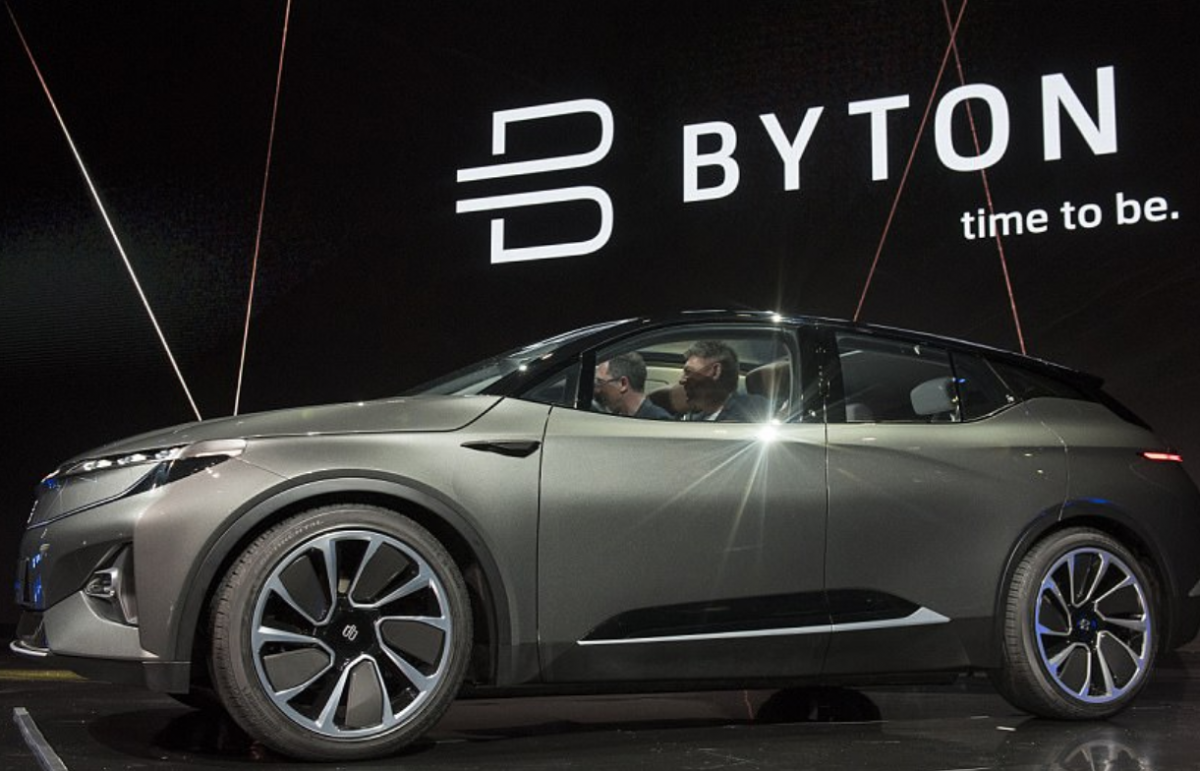 Earlier this month, Chinese car startup Byton premiered its electric car at the Consumer Electronics Show in Las Vegas. The car looks nice enough, but the logo and brandline have me wondering if they invested more than 10 minutes searching Clip Art catalogs for their logo, then used a dartboard and Google Translate for their inexplicable brandline. What the hell does "time to be" mean? I'm baffled that an overall investment in Product Development, Manufacturing and Launch which likely exceeds $1 billion was branded with work that'd get laughed out of most freshmen-level creative classes.
At this point, reader, I hope you're thinking something like, "Funny stuff, smart guy — you think you could do better?" I not only can, I have.
Introducing Laser PowerSports
In 2010, my longtime friend Steve Brown came to us with an electric ATV he'd designed and built himself — and asked if  we could brand it, and develop a website design. He wasn't 100% sure he was going to take the plunge to market & sell his concept, but he was interested enough to hire us for some preliminary work. The budget wasn't big, so we worked on it — in between other projects — over the course of a couple weeks. During which time we developed the logo, website design & copy, a descriptive for his creation (Electric Performance ATV) and a name for it: The Bolt (and yes, this was before the Chevy Volt).
When I opened my website copy document this afternoon, I found a note over the ABOUT copy indicating that it still needed work. In retrospect, I'm not unhappy with what I wrote — below (although I'd give my brandline, "Sparking A Revolution", a B grade at best).
CLICK HERE to see the work.
ABOUT PAGE COPY
EVOLUTION OF THE REVOLUTION
The sheer number of Golf Cart framed ATVs on the market was all the proof we needed that Leg Over Handlebar (LOH) ATVs just aren't for everybody. At the same time, we weren't too keen on the idea of puttering around the woods looking like camo-clad retirees.
So where was the solution for the sportsman who wanted the dynamic styling and off-road performance of an LOH plus the steering precision and comfort of a genuine driving experience? The answer, for those of you who know your ATV history, started with the Honda Odyssey and Pilot. That's right: Before Honda gave those names to family wagons, the Odyssey and Pilot were the most exciting ATV / Kart hybrids ever made. Until now.
The first place we engineered significant design advancements into that classic concept was in the driver experience itself, including:
A longer wheelbase for more stability. But without sacrificing critical off-road agility.
A hi-back bucket seat, with an integral headrest, for better neck-and-head stabilization.
A four-point racing harness. Maximizing comfort while reducing driver "pitching", during even the bumpiest rides.
A sturdier, padded, wraparound operator cage. For added structural integrity.
At the same time, with the performance, dependability and durability of cutting-edge battery technology, we asked ourselves: Who really wants the forest-rattling noise — not to mention the added cost, maintenance, headaches and ever-present stench — of fume-spewing gas engines? Not us.
Granted, Laser's Performance Electric ATVs may not take you everywhere an LOH will go. And they won't carry your clubs as easily as the camo-clad golf carts will. But we're convinced that plenty of folks are looking for a Bolt of fresh air. Maybe enough to spark a revolution. Are you ready to take the lead?
THE MAN BEHIND LASER POWERSPORTS
Few people are lucky enough to combine their life's passion with their life's work. After three decades of building (then selling) the company he co-owned with his brother, Steve Brown got that opportunity.
From the first time he rode a mini-bike, Steve's lifetime passion has been Off Road sports. His work was tubular suspension and frame components — where he served as his company's principal Vehicle Frame design and co-engineering consultant for clients like Honda Power Equipment, John Deere, Club Car, Yamaha.
The sale of that company enabled Steve to pursue a vision, decades in the making, that ultimately led to Laser PowerSports. An organization he intends to pass along to the next generation of Browns, who already share his passion, vision and work ethic.
So there you have it, Byton:
It's never to late to right a wrong. And yes, that branding is wrong. We can fix it, and probably at a fraction of what your current agency charged you. Call anytime, we're available. And much friendlier than this blog post would lead you believe!