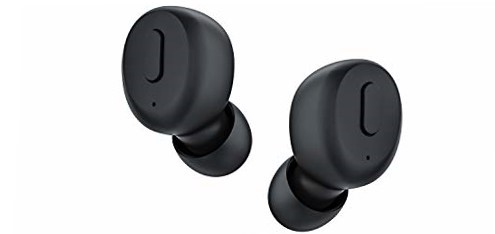 The image above is a photo of the Beben Bluetooth Earbuds I bought on Amazon for $19.99 in 2020. They were delivered to me along with a $40 Amazon gift certificate. Meaning Beben paid me $20 for the privilege of owning their earbuds. THEN they emailed me asking if I would be willing to write a 5-star review — in consideration for which, they would send me a second pair of earbuds absolutely free.
Well, a free pair of earbuds for five minutes of my time is a great offer — but I'm not willing to lie about a product if it doesn't merit a 5-star review. These earbuds absolutely merited that review.
The sound quality is extraordinary. The highs are sharp and crisp without being tinny or sibilant, and the lows are so resonant, and accurate, that I can actually feel bass vibrating in my ears — as I would from a high-end set of stereo speakers.
But here's the question for the purpose of this post: How do they sound compared to a pair of AirPods Pro? Let me put it this way: If you cup your hands over your mouth and talk, that's how a $249 pair of AirPods Pro sound compared to my Beben Earbuds. For which, again, I was paid $20 to own TWO pair.
In short, the sound quality of AirPods Pro is pathetic.
Considering the cost, it's nothing short of an insult to Apple's loyal customers. And yet, if AirPods was a company on the NYSE, it would have had a market valuation of $175 billion in 2019 — the year Apple Insider published that statistic. That would have made it #32 among America's most valuable companies. Today, that ranking would place AirPods just below Nike and just above Netflix.
Pathetic sound for just under twelve-and-a-half times the cost of brilliant sound. And yet, in the first quarter of 2021, Apple sold 27 million pairs of AirPods. That, my friends, is the power of branding.
A confession
I realize I've just painted an extremely dark picture for my chosen profession — and I have to admit: As a longtime Apple Contrarian, I love most any opportunity to poke fun at the illogic (based on Bang For The Buck) of its cult-like following. But here's my bigger and more important point: I'd bet that the number of owners who are unhappy with their AirPods is lower than 1/100 of one percent. And that, my friends, is the positive power of branding.
In general, people buy AirPods not for the great sound, but because they're made by Apple. And the reason Apple is the world's most valuable brand is because Apple consistently fulfills its brand promise: Beautifully designed products that work well — and work seamlessly-well together. "Hey," thinks the average AirPod owner, "If they're made by Apple, they have to sound good."
And that, my friends, is the ultimate power of branding: To make you feel good about the products you buy, because you connect with the brand. And you know what? If you think your AirPods sound good, then they DO sound good — and who am I to tell you otherwise?