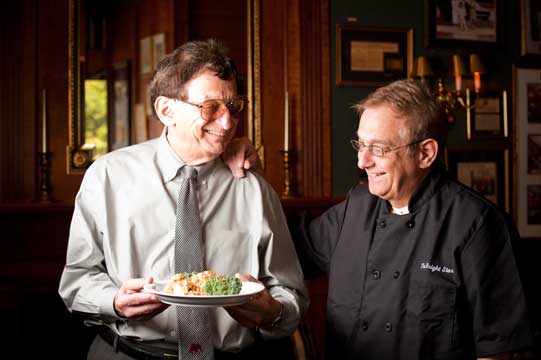 Shortly after my June B-Metro column remembering Birmingham hot dog legend Gus Koutralakis was published, I received an email entitled "Pete's Famous" from Andreas Anastassakis—which read, "I am Jimmy and Nicky Koikos' cousin from the Bright Star Restaurant. We read the great article you wrote on our cousin Gus.
"Jimmy has asked me to contact you, as he would like to speak with you about this article. If you could please call Jimmy at your convenience, it would be greatly appreciated. He can be reached anytime at the Bright Star."
High praise indeed—particularly coming from family—so I called Mr. Jimmy at the restaurant. Not only did he say really nice things about my piece, he wanted to show his appreciation by inviting Martha and me to dinner at the Bright Star. On him.
The timing couldn't have been better. Martha's birthday was just a couple weeks away. I called him back to expect three of us June 23, and I asked him to please bill us for our son's meal—since that wasn't part of the original offer. "No sir," he says. "Your son's meal is on me, too."
Since it's a weeknight (and since we've led the Senior Citizen Lifestyle for decades), we arrive for dinner at 6:00 sharp. Mr. Jimmy himself seats us personally, and introduces us to our waitress for the evening—Brenda Salser, a 30-year veteran of The Bright Star. Before we even have a chance to pick-up a menu, Mr. Jimmy insists on bringing each of us a cup of gumbo.
It goes without saying, everything we're served is excellent. That goes with the territory when you're a James Beard American Classic restaurant.
Plenty of restaurant critics have waxed eloquently on the Bright Star's food. That's not what this piece is about. It's about the rare honor of experiencing gracious hospitality at the hands of a pro. And I mean that in the most respectful sense possible.
I forget exactly how many times during our meal Mr. Jimmy dropped by to ask how we were doing, and share a memory or two. What I remember distinctly is that every visit was a brief, genuine pleasure.
This is a man born with a digitally-precise sense of timing. A man who knows how to interject without ever interrupting. And who always leaves you wishing he'd stayed longer, unlike (let's be honest) so many well-meaning but long-winded waiters who fancy themselves the Feature Attraction of your private evening.
It was exactly the same with Brenda—whose conversation was always welcome, and who was always there before a glass went empty, or a request went unmet.
Our only moment of disagreement came when the three of us politely insisted we had no room for dessert. Mr. Jimmy politely insisted we were wrong. Mr. Jimmy was right.
It was the perfect end to a perfect meal. But it wasn't the end of our perfect evening. Mr. Jimmy then treated us to an historical tour of his restaurant. From the still-vivid wall murals (which were painted in the early 1900's) to the family photos taken during the same time period, every stop came with a concisely encapsulated story—and then (promptly, but without a hint of rush) we were onto the next stop.
We reached the last photo by the door, and before there was even the split-second possibility of an awkward "what do we do now?" moment, he reached-out his hand to bid us a heartfelt adieu—and we were on our way, happily stuffed and glowing from Mr. Jimmy's warm energy-infusion.
During one of Brenda's stops at our table that evening, I'd asked her if it was true that, when you've made friends with a Greek, you've made a friend for life. Oh yes, she affirmed, absolutely. What an honor to think I can now call Jimmy Koikos a friend.