Our proven formula will deliver qualified prospects.
Are you willing to do the rest?
In an increasingly shifting, increasingly-competitive marketplace for legal services, the only constant is you. Without a uniquely competitive messaging strategy, you have no real answer for the only question that matters to prospective clients:
"Why You?"
The answer starts with your brand.
Ultimately, your brand is the only asset you have to distinguish yourself among consumers — who now hold all the control in the proverbial buying process. Everything else is just noise.
We'll help you build (and/or refine) a brand that effectively communicates your value proposition to the clients you want to serve. We'll then deploy your brand in the marketplace — using an integrated, data-driven strategy that cost-effectively delivers messaging at the right times, in the right places, to maximize conversions.
BOTTOM LINE RESULTS: Past Successes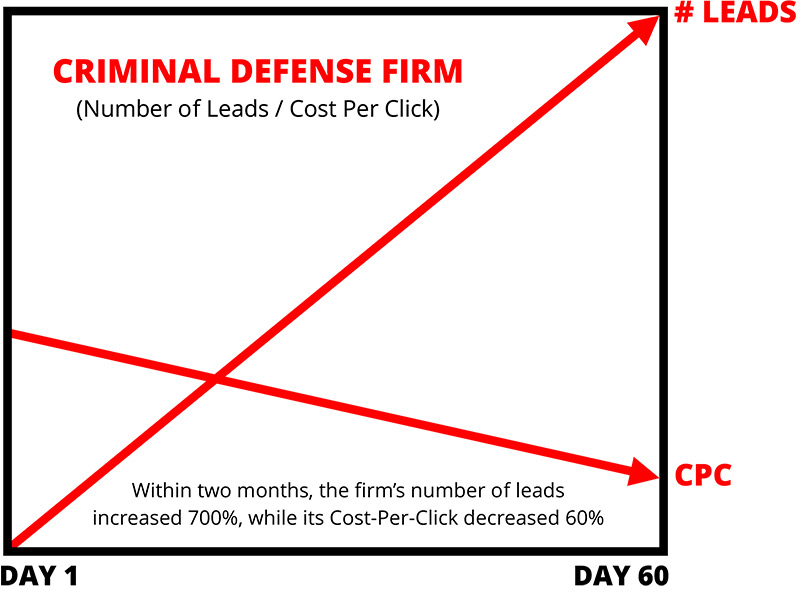 The rest is up to you.
Your brand is so much more than words. It's the promise you keep — to your prospects, your clients, and yourself.
Are you willing to implement and maintain the best practices needed to convert qualified leads into clients — and clients into Advocates and Influencers for your firm and your services? If so, let us show you how the proven formula we've used to benefit dozens of practices can — and will — work for you.
For a free initial consultation
LAW FIRM MARKETING SOLUTIONS
DIGITAL SOLUTIONS INCLUDE
Database Development & Management
Content & Inbound Marketing Campaigns
SEO, PPC & Remarketing
Social Media: Organic & Paid
Reputation Management & Influencer Marketing
TRADITIONAL SOLUTIONS INCLUDE
Brand Identity Campaigns
Referral Generation
PR & Media Relations
Seminar & Event Marketing
Publishing Opportunities
Recruitment Branding
Media Advertising & Direct Marketing
Community Service Initiatives